Turbocharge Network Support with No-Code Automation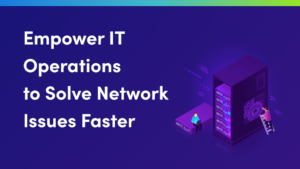 December 14, 2023
11:00 AM CET & 11:00 AM ET
Network disruptions are significant roadblocks to business operations leading to significant downtime, loss of productivity, and compromised security. Traditional network troubleshooting methods are time-consuming and prone to human error. But legacy automation solutions rarely focus on root cause diagnosis and homebrewed solutions require programming expertise, manpower, and months of development. 
NetBrain offers a smarter and more efficient way to identify and resolve issues quickly without the need to expand your Dev teams or refocus their priorities. Join our webinar on no-code automated diagnosis to see how NetBrain leverages our Digital Twin of your infrastructure and your existing networking expert resources to build instant automation and transform network support without any coding or scripting. 
We'll guide you through practical scenarios and real-world applications, showcasing how no-code network automation simplifies your troubleshooting processes, reduce downtime, and boost overall network performance. Don't miss this opportunity to streamline your incident response and network troubleshooting to stay ahead in the ever-evolving world of technology.